OUR PINOT BLANC AND PINOT GRIS, AS WELL AS CHARDONNAY.
THE STARS FROM BADEN: PINOT BLANC, PINOT GRIS, AND CHARDONNAY.
Like all other grape varieties of the Pinot family, the Pinot Blanc and Pinot Gris place high demands on soil and climate. Warm, fertile soils and sun-exposed, dry-warm locations provide the best prerequisites. Up to 50 % slope make our location Stich den Buben the perfect site for these vines. They can take root in distinct mineral soils and capture the warmth of the sun until autumn. The Chardonnay also shows its true potential once it takes deep roots. These wines do not take center stage as they are enjoyed but demonstrate a special medley of flavors.

LUFT & LIEBE
STICH DEN BUBEN PINOT BLANC DRY
This delicately smoky, mineral-flavored Pinot Blanc requires a bit more than "air and love." We invested much manual work, care, and expertise into this wine to ensure that it can demonstrate its aromatic variety of lime blossom to melon.
---
LUFT & LIEBE
(expression) Meaning: The colloquial phrase for the delicateness of this wine that is the result of love and passion.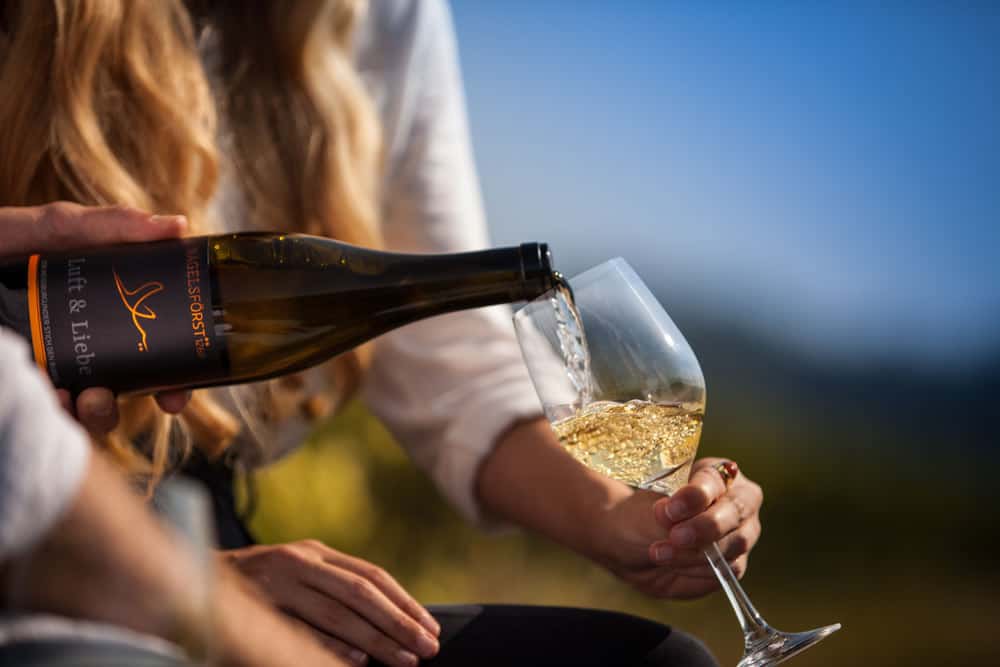 TAUTÄNZER
ORTENAU PINOT BLANC DRY
Dry and elegant like the dancing dewdrop on the vine in the morning breeze, the TAUTÄNZER enchants with its delicate scent of pears and apples, as well as a robust and lasting taste on the palate.
---
TAUTÄNZER
(noun, masculine)) Meaning: Shimmering dewdrops on ripe grapes on an early autumn morning as the rising mist settles on the cool vines.
VORFREUDE
ORTENAU PINOT GRIS DRY
Even the bright straw-yellow color and the scent of lime blossoms to beautiful melon turns anticipation into the chief enjoyment. So we savor a delightful hour with its spicy-juicy aromas with a dry finish.
---
VORFREUDE
(noun, feminine) Meaning: The positive, emotional experience of an excellent Pinot Gris from NÄGELSFÖRST, combined with the prospect of enjoying it again soon.
UMWEG ZUM GLÜCK
BADEN-BADEN CHARDONNAY DRY
From the bottle to the glass on the palate, every path to the fragrant and youthful fruit aroma of fresh limes with subtle mineral notes is worth the effort, rounded off with a delicate toasty touch.
---
UMWEG ZUM GLÜCK
(expression) Meaning: Before one can enjoy the state of bliss, one needs to open the bottle, decant the wine, and fill the glass. A detour one accepts gladly.